Alpha Industries has been around since before the 1960s, manufacturing clothing for government contracts, long before gracing the shoulders of Beyoncé, Pharrell, Rihanna and any number of the Kardashian clan (and Cher, obviously). Alpha literally created every stitch of the jackets airmen have been wearing in the U.S. Military for a generation, and when the company started that's all they did. They manufactured their wares exclusively for members of the military until the 1980s when they began offering their products to the public, and only a few years ago dove into the popular market in earnest. But whether or not you've been buying Alpha bomber jackets and parkas since you were a wee child, the design world has been looking at them at least that long. This isn't new.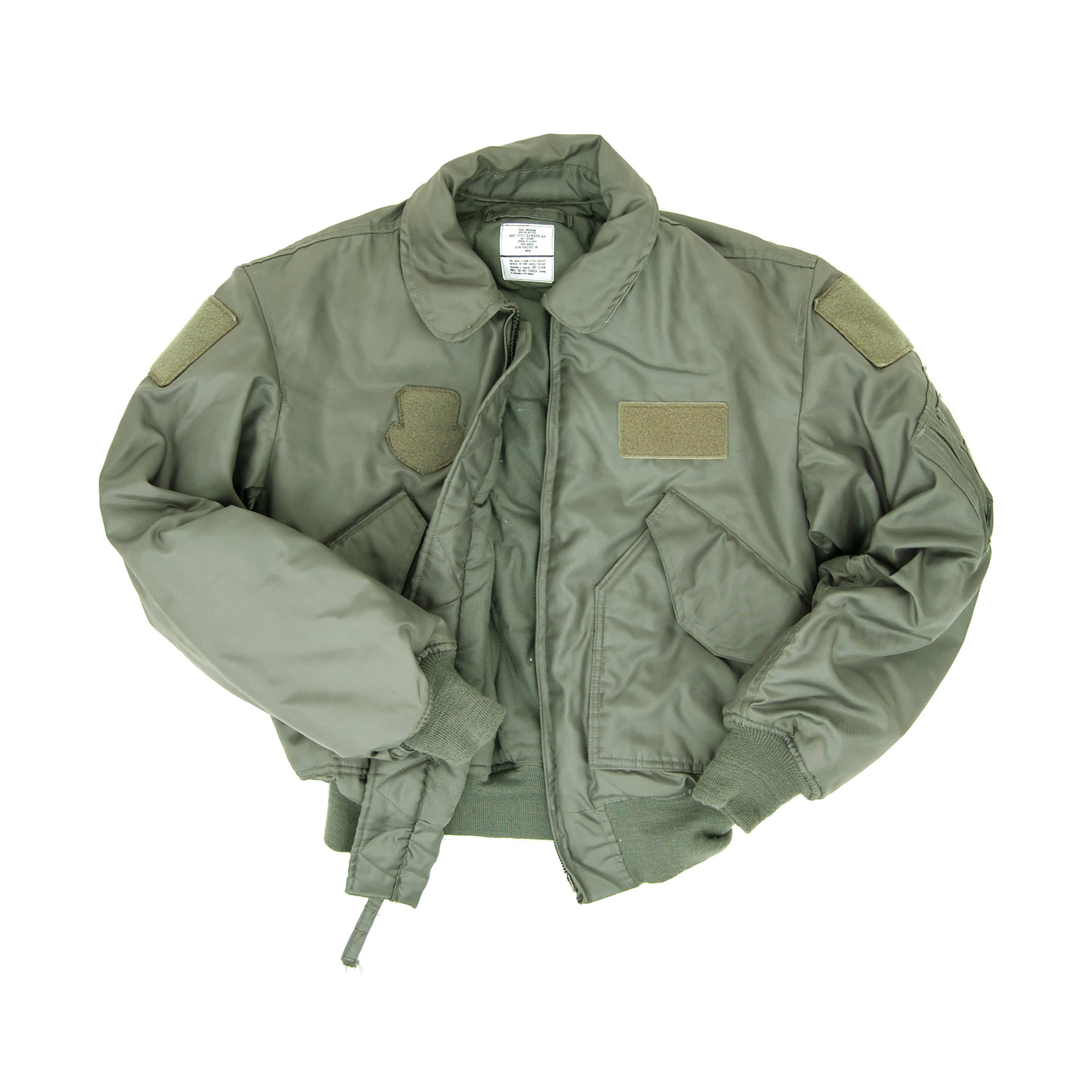 Alpha began in the late 1950s by taking specifications from the Pentagon and creating what they needed. In 2007, when Mike Cirker was named the new CEO, he brought on Angelyn Fenandez as VP of Product to use her experience working at places like Tommy, Liz Claiborne, and Lord & Taylor. Together they knew that the market was ready for Alpha Industries in a new way, even if they didn't know what that would look like. "I'd worked for other brands before and Alpha jackets have always hung in design rooms without being conscious of the brand," says Fernandez. Even those designing in the room with Alpha Industries jackets on the wall for inspiration didn't know what Alpha was, but Cirker and Fernandez knew they could make the brand a household name.
It's not just brands like Liz Claiborne and Tommy that have drawn inspiration from the military, it's all around us, and has been for a minute. Alpha Industries' Blood Chit jackets, originally created for airmen lost behind enemy lines to turn inside out and display as a plea for safety in a number of languages, have been remixed in a collaboration with Billionaire Boys Club.
Marcelo Burlon collaborated with Alpha Industries, but has also created his own version of the bomber jacket including one with Tyga that retails for over $1,000. You can see their impact in the fur-lined hoods of Canada Goose, the olive parkas of Yves Salomon, and Rothco's entire archive. Some of these are inspired by the work that Alpha has been doing for years, the rest are marching alongside Alpha moving in the same direction. A few are rip-offs, while others have developed alongside Alpha as pragmatic solutions for their own challenges, but they all achieve similar results. "If you look at the franchise bodies that Alpha has, they're really the basis of what all outerwear is created from today," explains Fernandez. The shapes work in both the cockpit of a war dog and on the streets.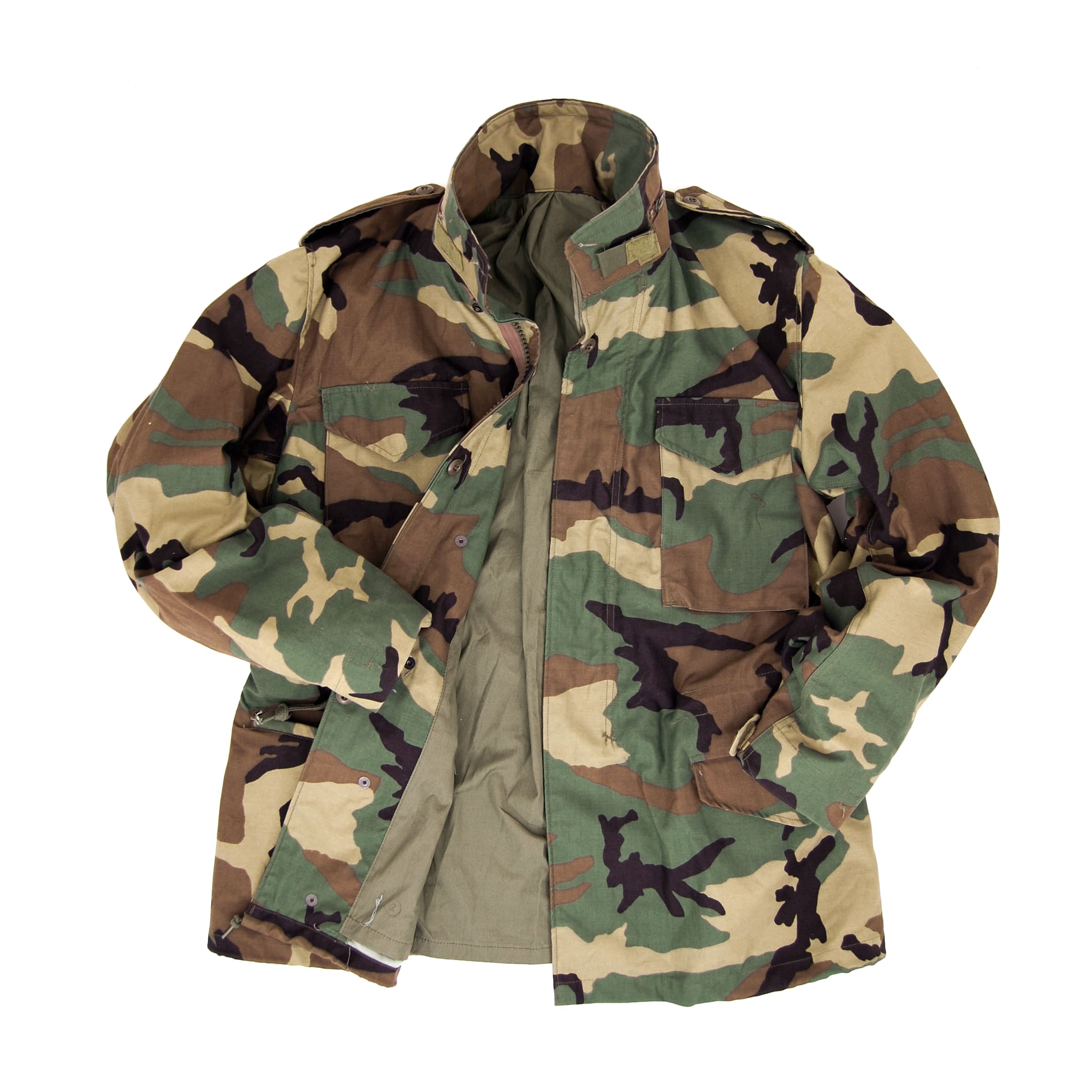 Military-inspired fashion doesn't end at jackets. Camouflage is as pervasive as any other pattern or color trend, going in and out of style in regular intervals. We just saw camo coming hard about five years ago, and even though it's currently in recession it won't be a few more years before everyone's at it again. And some brands, like BAPE, run the camo all year anyway. Camouflage was made for military and hunting purposes far before it graced an adidas NMD or Puma Disc, with the bulk of camouflages being identifiable for which nation used them during which wars. (You'll often see camo tempered by bright orange - known at alpha as "Emergency Orange" – the military specification required that the jackets be lined in this color so fallen airmen can reverse their jackets and be more easily spotted by rescuers from above.)
Just this season Nike took their most iconic silhouette of all time, the Air Force One, and reimagined it with deep military inspiration, renaming it the Special Forces Air Force 1, wrapping it in military cord and employing ballistic nylons.
Traditional military colors and shapes have become such a bedrock part of our aesthetic tradition that they will blend into anyone's wardrobe. Olive, black, sand, and navy. These colors are now considered neutrals, and the shapes are so well known that they read seamlessly into any trend's look of the day.
Try it. Test it. It works.
As the foundation of our modern aesthetic language, military inspiration isn't a trend. It's omnipresent.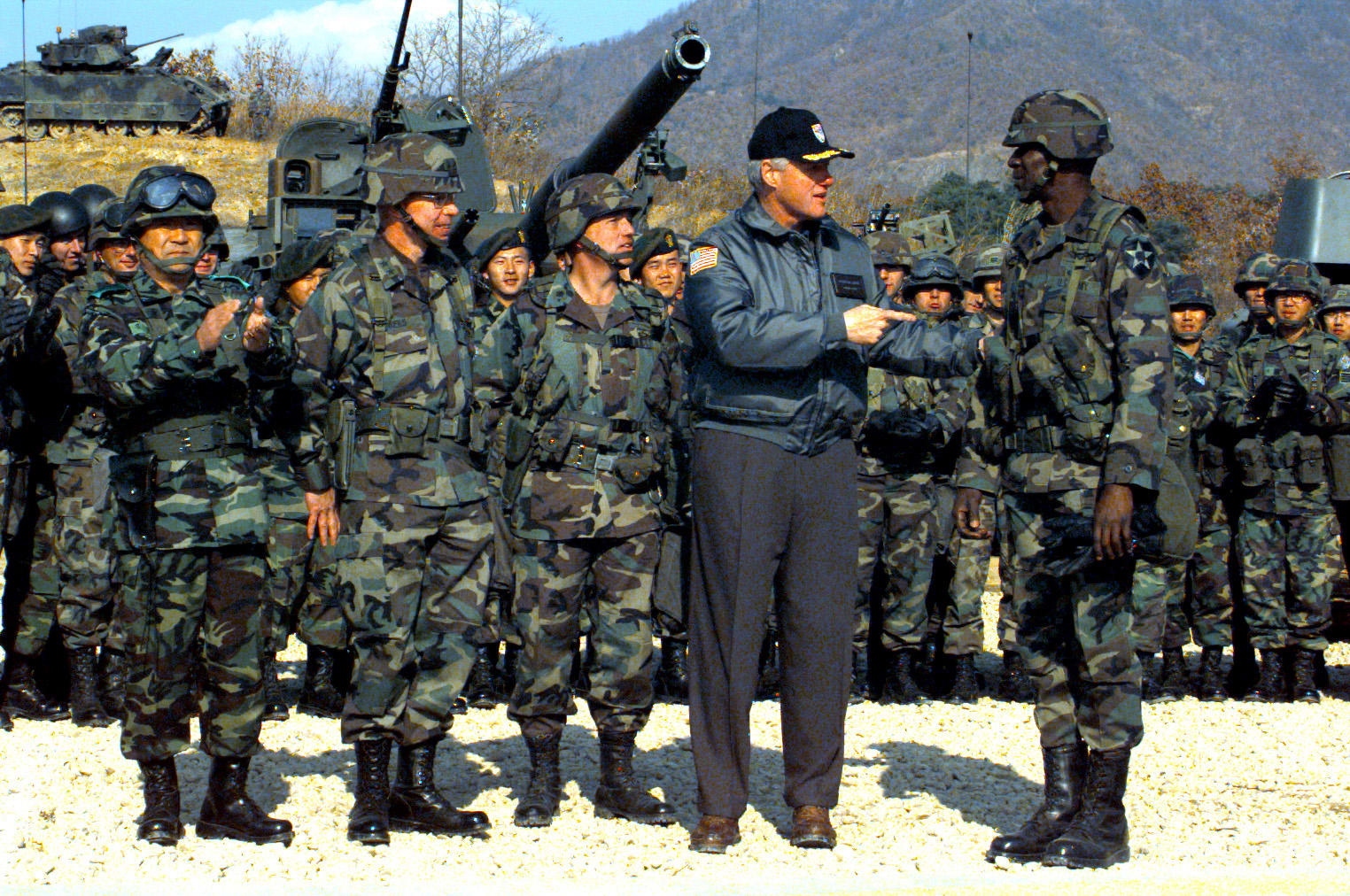 Other designers continue to draw inspiration from these silhouettes and designs, but when Alpha is developing something new it doesn't come from what's trending or projecting trends, instead it's utilitarian. They create something new when the military needs something new. "Our designer was the government. So the government would say, 'Here's the MilSpec [military specifications] of this bomber jacket,' and we would make that, and then they'd come back in five years and say, 'We've got new technology. We've got new airplanes. Our needs have changed. This is now the new spec.' And then we would get to work on designing and building the product to meet those new needs," explains Cirker. "We spend a lot of time looking at color, concept, and those kinds of things to forecast where the market demand will be for fashion. But we're still more about the functionality and durability, and purpose of the jacket is most important."
The results are made for working for a pilot in a cockpit or on the airfield, and just as often as you see a fashionable remake of one of these jackets climbing into a Maybach under the flashing lights of paparazzi, more often you see the MilSpec jackets on TMZ. As they can tell you at Alpha Industries, the military's fingerprint is everywhere and you're likely wearing it whether you notice it or not - but not just in the clothes.
Starting as a military contractor and continuing to work through the lens of the military, there's potential that any armed conflict can reflect on Alpha and their business. It could be a tricky topic and they know this. It's something that Cirker welcomes discussing. Alpha has been having this conversation since their early days, and it's something they're cognizant about every day.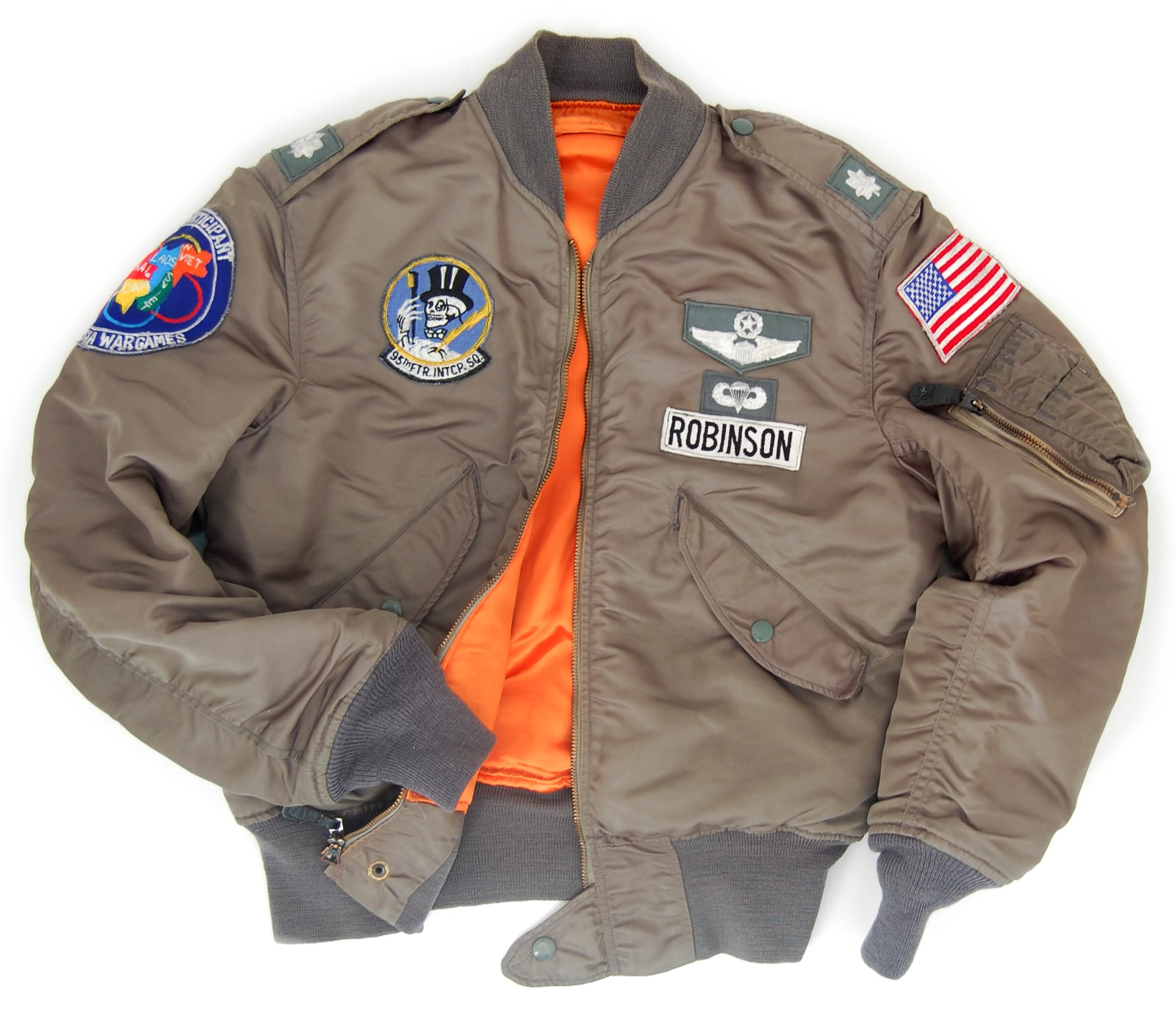 They began offering their products to the public after the Vietnam War. Since that era the American public has learned that even during controversial conflicts, service members are perennially deserving of our respect and admiration. "Regardless of whether the Pentagon is making good decisions or bad decisions, or they're engaging in the right theaters of war, everybody believes that the men and the women who are actually doing the work and the fighting should have the best product and the most protective product that we can make," says Cirker.
It's more than just a sentiment for Alpha. It's ultimately the core of what they do. The brand outfits service members every day. It's not about how a war is going, or if the conflicts are best decided, it's about making sure that the men and women in the fight have the best possible tools to get their jobs done. "We're who the military turns to to give the best stuff to go out and fight the battles and fight the wars," says Cirker. "And we take that knowledge and expertise and provide it to the consumer."
The question isn't how to incorporate military influences into your look, you already do. Form is a result of function, it always has been. It's just up to us to notice it.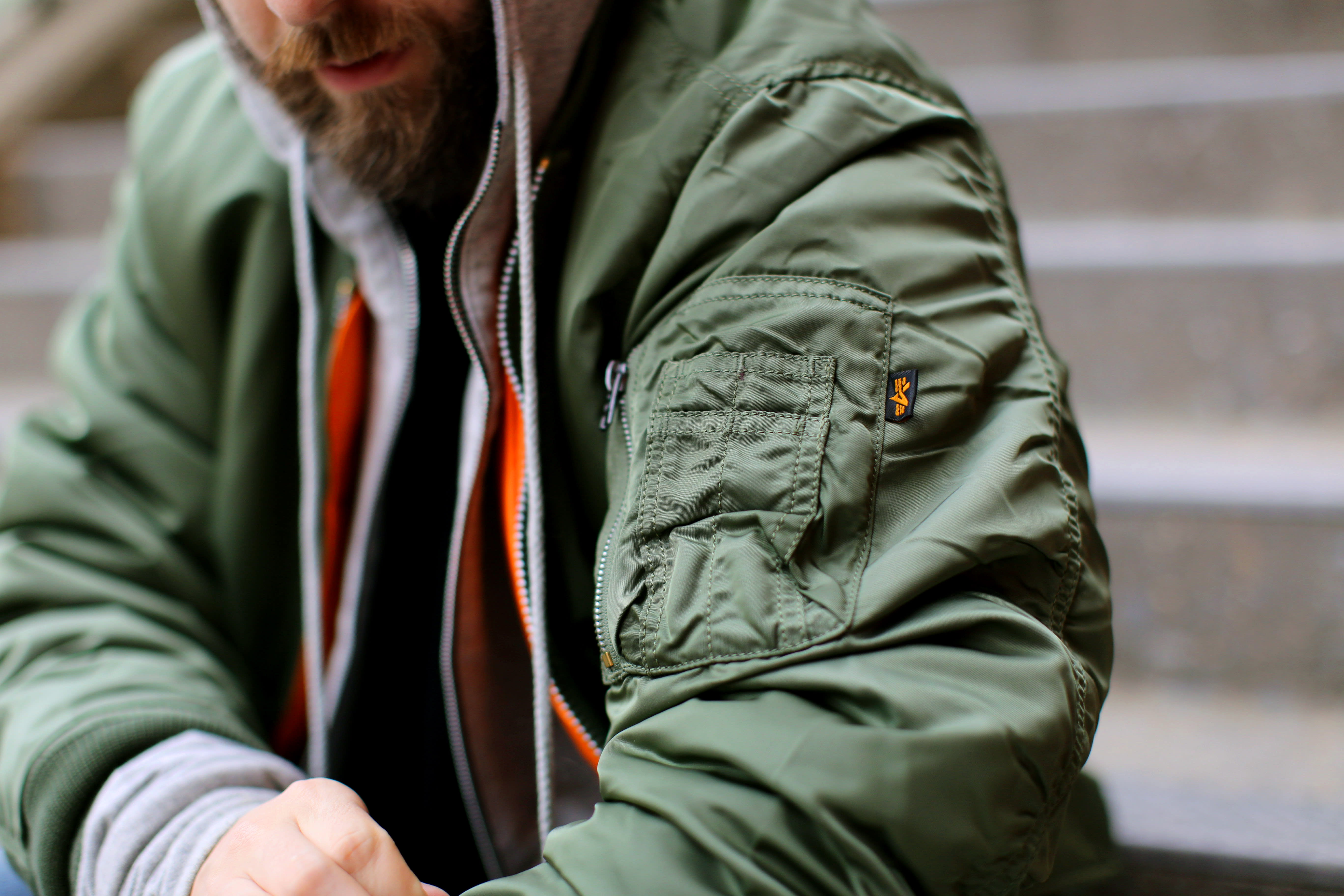 Fernandez's job requires her to have her hands in almost every aspect of Alpha Industries' front facing operations; everyone in her life knows what she's up to. With looks like the MA-1 Jacket suddenly omnipresent, friends ask if she's mad about seeing jackets she's helped bring to the world on the racks as poorly remade fast fashion. "No! It translates across channels," says Fernandez. "It's not so much that we wanted to place it in street wear. It just happened. It naturally and organically created itself in that realm, and that kid went to buy it," she explains. The point that Fernandez makes is that the streets called out for these looks, because they're already there. They have been there. If you wear a bomber jacket, it's there. If you own a parka, it's there. Camo, olive green, even "safety" or "emergency orange," it's there. Clothes have always started as utilitarian, their roots come from their function, and so much outerwear was created as a way for our military members to fight the elements for them so they could focus on other fights. There is always more to explore, and more to add to your wardrobe and expand your efforts, but you're probably already wearing military inspired clothing by virtue of walking out your front door.